1win registration
To gain access to sports betting, quotations, statistics, and bonuses, you need to fill out a 1win registration form. In the account settings, you can make changes to personal information, create deposits, withdraw your winnings, monitor the status of pending requests, and go through the history of completed activities. This article provides information about all methods and steps of creating an account on 1win India.
How to create a 1win account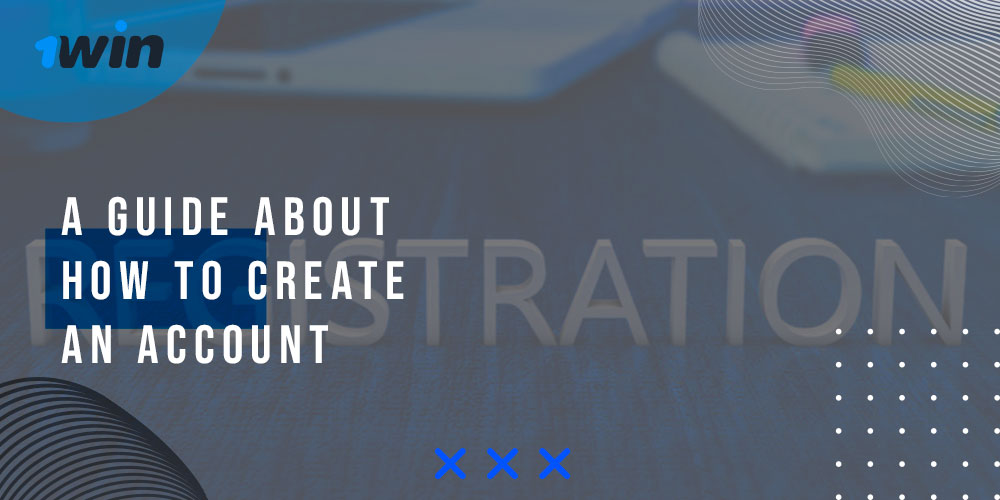 The platform welcomes all adult users (18 years and older). 1win registration takes up a maximum of 2-3 minutes. To prevent any account verification issues, pay attention to the following advice:
| | |
| --- | --- |
| Having multiple accounts is strictly prohibited | Each user can only create 1 account. This account has access to every feature the platform has to offer – placing sports bets, participating in casino slot games, playing poker room. Use your 1win login and password to log in to an account from a mobile device or a PC. |
| Be attentive to selecting a currency | If your currency of choice is EUR or USD, you cannot deposit/withdraw your deposits using the Indian rupee (INR). To prevent extra money loss during conversion, choose the same currency that your credit card or an e-wallet possesses. |
| Use valid personal data | To create an account on the bookmaker's platform, you have to fill out a special form. You should enter only valid personal information – country of residence, full name, e-mail, phone number. This data must match your passport information during the account verification. |
In 2021, new users from India will receive a special sign-up bonus – +500% for the first deposit. To claim this bonus, you need to make a deposit of up to 15 000 Indian rupees (INR). The highest possible withdrawal amount is 75 000 INR. You win money back by placing bets on the activities with odds 3 (at least) to 1. In the case of winning, you will receive extra money from the bonus balance.
Step-by-step 1win account creation
Not so long ago, it was possible to create an account for gambling with just one click. The account currency and the country of residence were the only data a user had to specify. The additional information could be filled in into the account settings later. However, there are only two methods of creating an account available right now:
1.
By linking a social media account.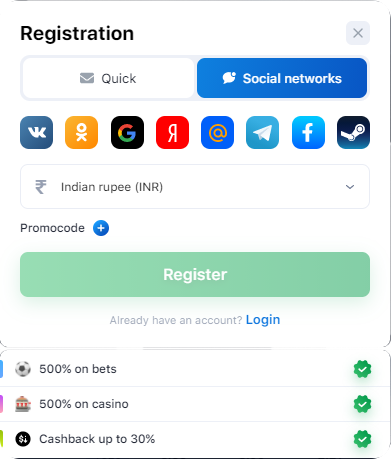 A user can log into 1win using his Facebook, Telegram, Google, or any other available online platform account.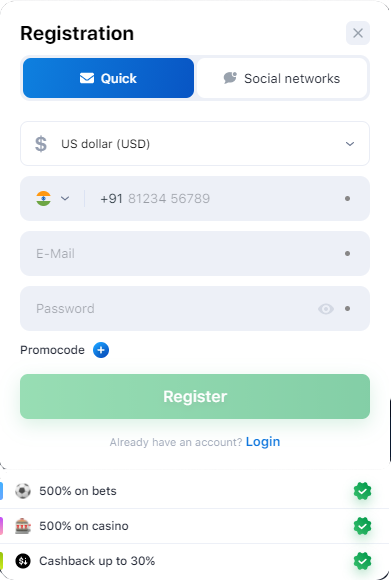 A user has to fill in the country of residence, phone number, balance currency, and an e-mail. Then, a confirmation link arrives on the indicated e-mail or phone number.
It is possible to go through the registration process using both a PC and a mobile device.
How to sign up using a mobile app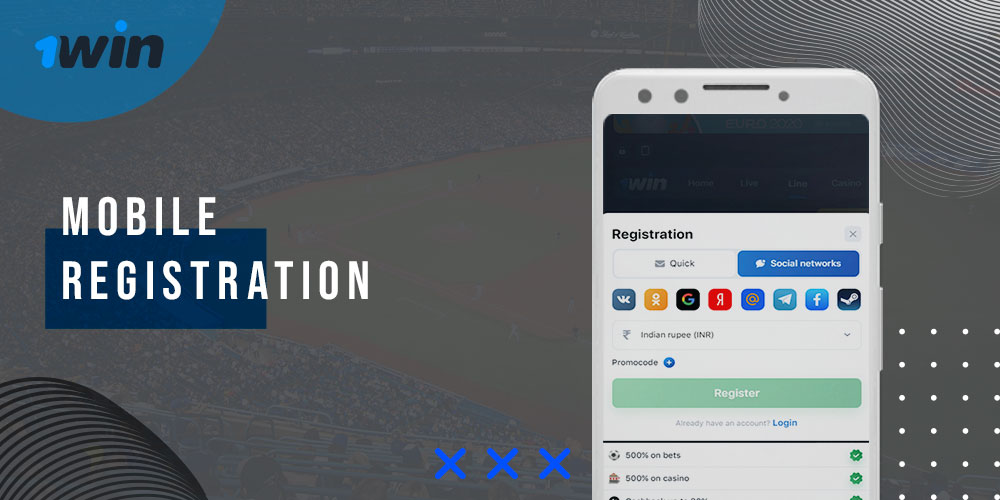 A bookmaker offers both iOS and Android native mobile apps for tablets and smartphones. You can download the software from 1win website – go to the website using any mobile device browser, open the side navigation menu, click on the "Application", and follow the navigation of the phone.
Creating an account using an e-mail takes no more than 5 minutes, but in this case, you will have to provide less personal info in account settings. The "1win sign in" procedure requires you to enter just an e-mail and password.
Creating an account using social media takes up even less than a minute. Still, you have to spend some time filling out your data in the account. To sign into the platform, go "Login" and choose the social media to link to the account.
How to sign up using the website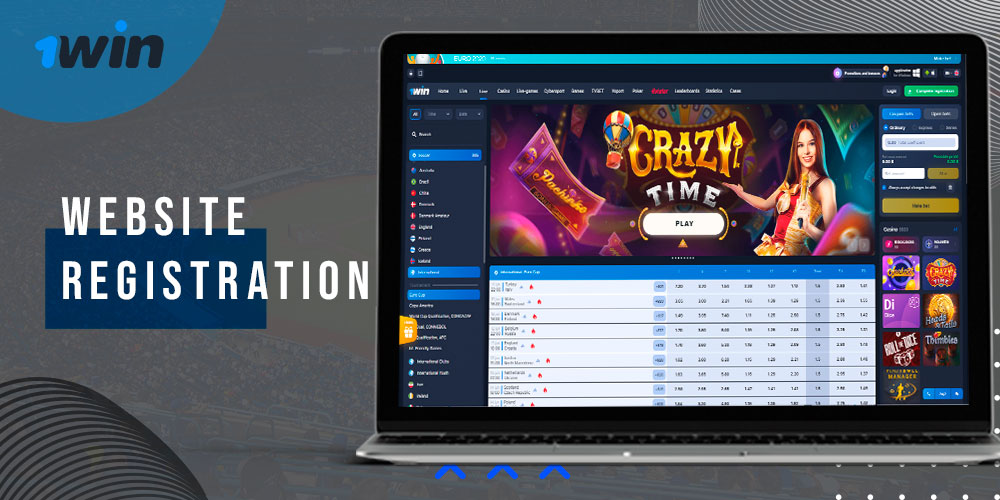 The easiest way to create an account is to use a desktop system (PC, laptop). If you chose registration using an e-mail, follow the instruction:
Open a 1win registration form.
Go to the bookmaker's website, and press the green button "Complete registration" in the top right corner, then switch to the tab "Quick".
Fill out the form.
Choose a currency, enter your phone number, e-mail, and password. If you have a promo code, click on "+" on the "Promo code" line, then enter your promo code. At the bottom of the form, click "Register".
Verify your e-mail.
The only thing left is to verify your e-mail address, following the link in the 1win letter. If you can't see the letter in the "Inbox", check your spam folder.
To login into your 1win account, go to the bookmaker's website, enter your e-mail and a password, and use the same data when logging into your account on a mobile device.
Creating an account using social media is even simpler. Click on "Complete registration" and go to the "Social networks" tab. Then choose one of the available online platforms, specify a currency you want to use, and complete the registration by clicking on "Register".
How to sign up using a mobile version of the website
Visually, Android and iOS mobile versions of the website are almost identical to the PC version, and so is the registration process.
To create an account with your mobile phone, click on the "Sign up complete", choose the preferred registration method, either an e-mail or social networks, and fill in the requested information. Log in to your account by clicking on the "Sign in" button.
If you ever lose access to your account, you can easily recover your password by clicking on "Forgot". You will see a request to enter your e-mail in a pop-up window with the password recovery link.
How to sign up using the mirror website
For some technical reasons, the bookmaker's website might not be available. In this case, you can create an account using a mirror website – a site with a unique URL address, identical to the original 1win website. It can be used not only for registration but also for betting, depositing/withdrawal, playing casino games, and other activities.
FAQ
What is the bookmaker's fee?

The average commission charged is 6-7%. However, it is not relevant to the most popular sports, including football. During major tournaments, the margin does not exceed 3-4%. For exotic disciplines, the margin varies between 8% and 11%.
What documents are required for account verification?

To confirm your identity, you need to send a copy of your driver's license or the first pages of a passport to technical support. Data verification may take up to 3 days.
Is account verification obligatory?

Account verification is not obligatory for a demo balance. However, if a user is playing for real money, winnings withdrawal is only available after verification.
How do I cancel my bet?

Unfortunately, a placed bet cannot be undone by either tech support or platform management. However, you can minimize the loss by betting on another outcome.
How to deposit?

Go to "1 Click Deposit" to make a deposit, then choose a payment system, specify the amount and e-wallet/card data, confirm the transaction by entering an SMS code or e-mail letter.
Hopefully, this review will be useful for all newcomers who want to test their luck and knowledge on the international bookmaker platform 1win. By using the information from this article, you will be able to promptly create an account, claim your welcome bonus and avoid any verification issues.